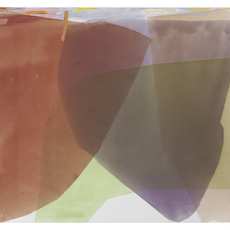 See all past shows and fair booths
Bio
Nathanson describes her aim as "color desire," a quality of being, between open-endedness and finality. A number of years ago, Nathanson found an interesting similarity between pictorial unity and ideas of the Kabbalah. In the studies she was undertaking, she learned that Kabbalah-influenced prayer practices in the seventeenth and eighteenth centuries involved visualizing colors representing the different parts of God, which the praying subject strived to unify.
For Nathanson, the creating of a painting is a balancing act that entails editing and adjustments. She works on large wood panels covered with gesso, over which the paint runs and flows freely. She must also carefully control the paint by lifting and tilting the heavy panels with rhythmic movements that require intense concentration and physical stamina.
In 2015, Nathanson was one of six artists in Confronting the Canvas: Women of Abstraction at the Museum of Contemporary Art, Jacksonville, Florida curated by Jaime DeSimone, an exhibition focused on new, experimental approaches to the process of painting. The other participants were Keltie Ferris, Maya Hayuk, Fran O'Neill, Jackie Saccoccio, and Anke Weyer.
Related artists