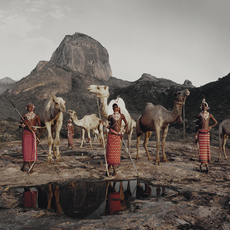 Jimmy Nelson
British, b. 1967
Bio
Dutch-English artist Jimmy Nelson (Sevenoaks, 1967) has worked for the last thirty years as a photographer and is the initiator of the Jimmy Nelson Foundation. At the age of 16, he was accidentally prescribed the wrong medication and suffered from Alopecia totalis, which is total hair loss. At the Jesuit boarding school, he attended his subsequent baldness was mistaken as a sign of awkward rebellion and thus he felt socially isolated. As a result Jimmy unconsciously initiated his quest to find a place where he felt comfortable in the world. At the age of 18, his choice was Tibet, where according to his own naive and romantic research, all young men were bald and where he felt he could find empathy. This was the catalyst for his unending search for human connection.
With this inevitable search for self, he discovered the world's most eclectic variety of peoples with their own cultures, aesthetics and languages. He decided to visually dignify the people he met on his way. His work is characterized by its romantic, iconic and celebratory style, which has been initially bundled in his first book Before They Pass Away of which over 200.000 copies were sold. This success, also caused by an element of controversy, was the catalyst for his lifelong mission; to pay homage to indigenous cultures as a message for greater humanity.
With every new journey he undertakes, Jimmy Nelson witnesses rapid changes that are having a negative impact on the planet for which the world seems to be indifferent. Therefore, in 2016 he established a foundation to highlight the wealth of a culturally rich diverse world. The Jimmy Nelson Foundation is concerned about how globalization affects our cultural heritage. It provides an inclusive platform for fostering appreciation for cultural diversity by organising projects for documentation, education about indigenous cultures, whilst enabling the communities to reinvest in themselves.
Related Artists