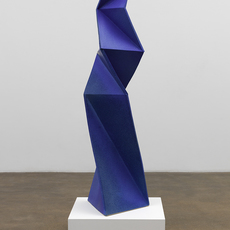 John Mason
American, 1927–2019
Career highlights
Collected by a major institution
Anderson Collection at Stanford University
Reviewed by a major art publication
Artforum
Included in a major biennial
Whitney Biennial
See all past shows and fair booths
Bio
John Mason was born in 1927, in Madrid, Nebraska. In the early 1950's He attended the Los Angeles County Art Institute (now Otis) and the Chouinard Art to study ceramics.
Mason produced large sculptural forms as massive wall installations, work on a scale that was revolutionary in its technicality and physicality. The hand built ceramic forms were stacked atop each other, twisted along a vertical axis, and finished in textured earth toned glazes that complemented the angled shapes. Towards the 1970s, he inverted his practice turning towards working with modules of commonly available firebricks. Making interactive modular kits that explore rotating geometries and create sprawling installations.
Mason's work has been exhibited and collected internationally including Ferus Gallery, New York; Pasadena Museum of Art; the Los Angeles County Museum; the San Francisco Museum of Modern Art; the Hudson River Museum; Norton Simon Museum of Art, Pasadena; the Museum of Contemporary Art, Los Angeles; the Metropolitan Museum of Art, New York; the Whitney Museum of American Art, New York; and others.
Related artists