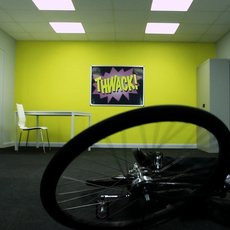 John Wood and Paul Harrison
British, Active since 1993
Established representation
Represented by industry leading galleries.
Bio
John Wood (b.1969, Hong Kong) and Paul Harrison (b.1966, Wolverhampton) make single-channel videos, multi-screen video installations, prints, drawings, and sculptures that elegantly fuse advanced aesthetic research with existential comedy. The artists' spare, to-the-point works feature the actions of their own bodies, a wide variety of static and moving props, or combinations of both to illustrate the triumphs and tribulations of making art and having a life. The videos maintain a strict internal logic, with the action directly related to the duration of the work. Inside this "logical world" action is allowed to happen for no apparent reason, tensions build between the environment and its inhabitant, play is encouraged and the influences on the work are intentionally mixed. In their not-always-successful experiments with movement and materials, many of which critic Tom Lubbock has described as "sculptural pratfalls," Wood and Harrison employ exuberant invention, subtle slapstick, and a touch of light-hearted melancholy to reveal the inspiration and perspiration—as well as the occasional hint of desperation—behind all creative acts.
Wood and Harrison met in 1989 at the Bath College of Higher Education, and have worked together since 1993.
Related artists