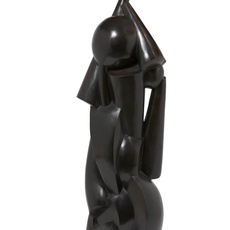 Bio
Jozsef Alexandre CSAKY (1888-1971) was enrolled at the 'Ecole Supérieure des Arts décoratifs' of Budapest by the age of fourteen. Csaky moved to Paris over the summer of 1908, settled at 'La Ruche', later joined Miklos and Archipenko. After World War I, Csaky signed an exclusive contract with the great art dealer Léonce Rosenberg, an avid supporter of cubism who saw Csaky as a pioneer of modern sculpture.
Concerned by spatial geometry and the meaning of shape, Csaky transformed his powerful drawings into architectural sculptures and bas-reliefs with antic and almost rigid accents. The feminine subject and the human figure were then mainly his favorite themes. Convinced by the idea that the artist's eye was the direct expression of beauty in its most profound and spiritual meaning, he reinterpreted the curves and angles of his creations through breathing mystery into them.
In 1923, he started to explore the theme of Animal representation: He was sympathetic to the material he worked with, resulted in a bestiary of pure and fine lines which implicated a cubist's brute force. In 1926, during his "animalier" period, Csaky produced a "Stag" in white marble.
Starting in 1928 until the end of his artistic career, the curves of his sculptures were gradually getting smoother and more sensual. The expression of his artistic interpretation becomes subtler and less figurative.
In 1930, Csaky participated, as a founding member, in the first 'Union des Artistes Modernes' (U.A.M) exhibition with the likes of the Martel brothers, Charlotte Perriand and Sonia Delaunay. In 1937, he was commissioned to design monumental pieces for the 'Pavillon de l'Elégance' as well as the terrace of the 'Pavillon de l'U.A.M', on the occasion of the international expo for art and technology hosted in Paris.
Joseph Csaky's artworks, less recognized than his contemporaries for a long time, are nowadays exhibited in the major museums around the world.
Related artists