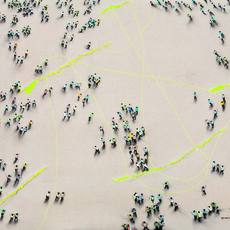 Juan Genovés
Spanish, 1930–2020
Blue-chip representation
Represented by internationally reputable galleries.
Bio
Juan Genovés: (Valencia, 1930)
From the beginning of his career, Juan Genovés, trained in the Valencia Fine Arts School, where he was a restless artist, concerned both with the impending need of renovation of the Spanish art scene, and art and the artist´s role in society.
Juan´s strong conviction in the transforming capabilities of art, as well as his concerns about the world around him, led Genovés to join a number of movements that were highly significant in the Spanish postwar scene: Los Siete (The Seven) 1949, Parpallós (1956) and Hondo (1960). Within the latter, – a new approach to figurative painting as opposed to informalism, Genovés developed new work which was both expressionist and provocative.
The last few years his work, Juan Genovés has begun an extensive research on static movement in painting, and the crowd has become the starting point to talk about the challenge involving painting and visual rhythm.
Juan Genovés has been awarded the Honourable Mention at the XXXIII Venice Biennial in 1966, the Gold Medal at the VI San Marino International Biennial in 1967, the International Marzotto Prize in 1968, the Spanish National Art Prize in 1984, the Valencian Art Prize in 2002, the Gold medal for merit in the Arts by the Spanish Culture Department in 2005.
Related artists