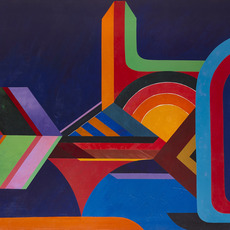 Kazuya Sakai
Argentine, 1927–2001
Established representation
Represented by industry leading galleries.
Bio
Kazuya Sakai (Buenos Aires, 1927 - Dallas, 2001). Of Japanese descendancy, he majored in philosophy and literature from the Waseda University in Tokyo, Japan. At the time he met and was close to the renowned artist kazuo Shiraga, who was a great influence in his work. In 1952, once settled back in Argentina, he joined de Artistas Modernos Group and had his first solo exhibition at the La Cueva Gallery. In 1957 he took part in the "Siete Pintores Abstractos" (Seven abstract painters) exhibition held at the Galería Pizarro. In 1962 he held two one-person shows at Bonino and Galatea, two very prestigious art galleries in Buenos Aires at the time. A year later he moved to New York City where he remained until 1965. He then moved to Mexico and lived there until 1988. It is in Mexico where he gradually abandoned his characteristic gestural, materic style and leaned towards a brigh coloured geometric abstraction. He joined the team of Octavio Paz, and was one of the founders of Plural magazine, where he worked as editor and art director (1972-1976). In 1988 he returned to the USA.
He exhibited regularly in Mexico, Costa Rica, Argentina, Spain, Japan and the USA. His work is preserved in numerous private and public collections, amongst others: Museo De Arte Moderno de Buenos Aires (MAMBA), Museo de Arte Moderno, Mexico; Museum of Modern Art, Tokyo; Museu de Arte Moderna do Río de Janeiro, Brazil; Museu de Arte Moderna da Bahia, Brazil; The Austin University Museum, Austin,Texas.
Related artists