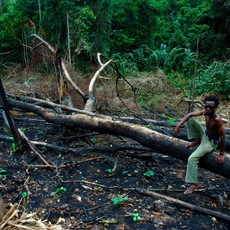 Kiluanji Kia Henda
Angolan, b. 1978
Established representation
Represented by industry leading galleries.
Bio
Kiluanji Kia Henda (b. 1979 in Luanda, Angola) employs a surprising sense of humour in his work, which often
hones in on themes of identity, politics, and perceptions of post-colonialism and modernism in Africa. Kia
Henda brings a critical edge to his multidisciplinary practice, which incorporates photography, video, and
performance. Informed by a background surrounded by photography enthusiasts,
Kia Henda's conceptual-based work has further been sharpened by exposure to music, avantgarde theatre, and collaborations with a collective of emerging artists in Luanda's art scene. Much of Kia Henda's work draws on history through the appropriation and manipulation of public spaces and structures, and the different representations that form part of collective memory, in order to produce complex, yet powerful imagery.
Kia Henda has had solo exhibitions in galleries and institutions around the world. His work has featured on
biennales in Venice, Dakar, São Paulo and Gwanju as well as major travelling exhibitions such as Making
Africa: A Continent of Contemporary Design and The Divine Comedy: Heaven, Hell, Purgatory revisited by
Contemporary African Artists. In 2019, Kia Henda's work was acquired by Tate Modern in London, and he was
selected to participate in the Unlimited sector at Art Basel.
Kia Henda currently lives and works between Luanda and Lisbon.
Related Artists