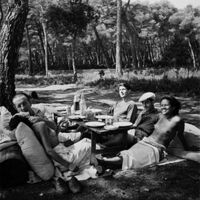 Lee Miller
American, 1907–1977
Established representation
Represented by industry leading galleries.
Bio
Lee Miller first entered the world of photography in New York as a model for American Vogue and Vanity Fair, having her picture taken by Edward Steichen, Hoyningen-Heune and Arnold Genthe. In 1929 having decided to become a photographer she went to Paris to work with Man Ray, soon establishing her own successful studio there and also in New York later on. Lee became well known for her portrait, fashion and Surrealist photography. In 1944 she became a War Correspondent accredited to the US Army, documenting the horrors of war and the Liberation of Europe for Vogue magazine.
After the war Lee continued to cover fashion and celebrity stories for Vogue and took pictures of Picasso, Miro, Man Ray and Tapies for biographies written by her husband Roland Penrose. In later life Lee's interest in photography was replaced by haute cuisine and she re-invented herself as a celebrity gourmet cook.
After her death in 1977, her family discovered her vast body of work in the attic at her home in Sussex and the Lee Miller Archives was formed. Today Lee's images are exhibited worldwide and a growing fascination with her life makes her the frequent subject of publications documentaries and films.
"As her significant contribution is slowly rediscovered by the world, we enjoy watching how she continues to be relevant to new generations, inspiring equality, strength in the face of adversity and the creative world."
Quote from 'Lee Miller' by Ami Bouhassane, Lee Miller's granddaughter,
Modern Women Artists, Eiderdown Books 2019
Related artists