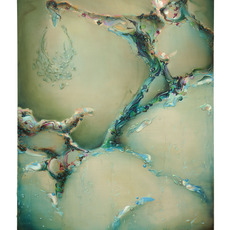 Lennart Grau
German, b. 1981
See all past shows and fair booths
Bio
Lennart Grau's almost brutal use of colours is a fascinating counterpoint in his interest in the ease and jauntiness of the Rokoko. Impressed by the human ability of decadence, as particularly embodied by this former society, the artist feels inspired to emphasize tawdry themes. For Grau, angels, classic still lifes and epic stagings represent perfect models to reveal the shallow glamour of this era and to shape these typical ornaments into neat ulcers. In reduced, abstract studies, in which the artists deals with the effect of real and painted light and shadow, Grau is always in search of innovative techniques of the Trompe L'oeil. With these moments of irritation, the painter attempts to engender mistrust on behalf of the beholder that on the one hand is seductive, but on the other hand also contains a doubtful undertone. As in Impressionism, the representation of light and ambient conditions becomes the artist's key task. An art movement that, even back then, has always been connected with innovation, progress and critical thinking, is revived by the work of Lennart Grau and transformed into a three-dimensional image. Lennart has completed his studies of fine arts as an alumni of Prof Leiko Ikemura at the Berlin University of the Arts (UdK) in 2012.
"I like being seduced by beautiful fascades which at the same time make me question them immediately because of their superficial aesthetic."
Lennart Grau lives and works in Berlin.
Related artists