Leon Kossoff
British, born 1926
2,771 followers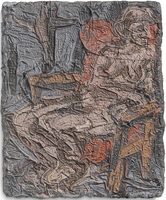 Fidelma,1981
31.8 x 25.5cm
LEON KOSSOFF (B. 1926) _Fidelma _ oil on board 12 ½ x 10in. (31.8 x 25.5cm.) Executed in 1981...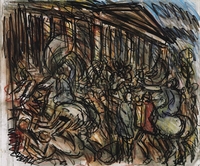 From Poussin: The Destruction and the Sack of the Temple of Jerusalem,1999
56 x 66.5 cm
Leon Kossoff (b. 1926) _From Poussin: The Destruction and the Sack of the Temple of Jerusalem_ chalk and ink on paper 22 x 26 1/8 in. (56 x 66.5 cm.) Executed in 1999....
Demonstrating unrestrained painterly verve and an architectural exuberance that finds little equivalent in British painting, Christ Church, Summer Afternoon is a pivotal work by the master of post-war...
Sotheby's
October 05, 2017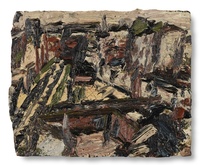 Like Bowie, Leon Kossoff was a child of London. Born in Shoreditch to first generation eastern European immigrants, the chaotic East-End formed the backdrop to his childhood. The city has become his l...
Sotheby's
November 10, 2016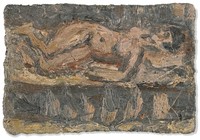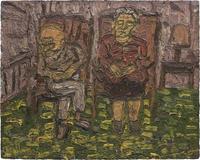 Two seated Figures no.1 (My Parents),1980
"The fabric of my work through the last forty years has been dependent on those people who have so patiently sat for me, each one uniquely transforming my space by their presence." Leon Kossoff Exe...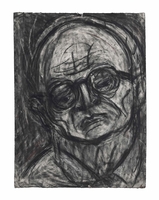 Head of Chaim,1987
76 x 57cm
Leon Kossoff (B. 1926) Head of Chaim charcoal and pastel on paper 30 x 22 ½in. (76 x 57cm.) Executed in 1987...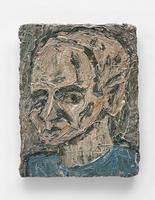 Phillips
February 09, 2016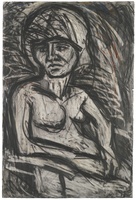 "Drawing is the essential beginning which develops into an intense relationship between the artist and the subject. The image emerges, after endless activity, as a spontaneous act which joins a web of...
Sotheby's
October 15, 2015