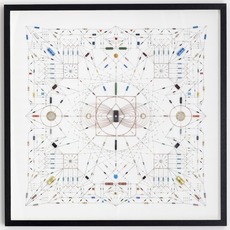 Leonardo Ulian
Italian, b. 1974
Bio
Leonardo Ulian's art is about making things and dismantle other things. He's interested in how Systems can be applied in the process of making art, how something can survive within a scheme of convention, exploring the system itself in order to understand it, and perhaps, trying to find a condition of artistic autonomy within the framework he creates.
Like in Mondrian's grids, the abstraction in Ulian's work has to survive, and find a place within a defined structure.
His Modus Operandi embraces his passions for electronic, music, science and graphic design.
The artist I am intrigued by the fact that electronic technology has become an important part in our daily life, almost something to worship.
With he Mandalas series the artist tries to show what has been hidden from the eyes of the consumer, representing technology and in particular electronic circuits as extraordinary objects where the perfection of the design can become almost something ethereal.
In reality the Technological Mandalas do not work as traditional electronics circuits, but they look like ephemeral gizmos able to trigger the eyes and minds of the viewers with thoughts and images of any kind.
The artist likes to the word "ephemeral" to define those because electronic technology is in a way impermanent, It is constantly changing and can become easily obsolete, like the sand mandalas can be easily brushed away after days of work. The idea of a world made of infinite connections, between people, objects, feelings, states, planets, minds... as the links I develop on my technological mandalas is very enjoyable for the artist.
Related Artists