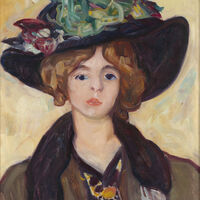 Louis Valtat
French, 1869–1952
High auction record
€726.7k, Christie's, 2008
Bio
As member of the Fauvist movement, Louis Valtat is best known for his extensive, colourful works, which commonly depict flowers and gardens. Valtat is discussed as one of the most significant references for Post-Impressionist Art.
Valtat studied in Paris under Gustave Moreau at the Ecole des Beaux-Arts and in 1888 under Jules Dupré at the Académie Julian, where he met artists Pierre Bonnard, Edouard Vuillard, Maurice Denis and Albert André. In 1895 he collaborated with Henri de Toulouse-Lautrec and Albert André, in creating the scenery for Lugné-Poë's play Le Chariot de Terre Cuite. During this period, Valtat was exposed to Impressionism, Pointillism and the work of Van Gogh, while at the same time being frequently in the company of the Nabis. By 1897, Influenced by Van Gogh's bold use of colour and expressive technique by 1897, Valtat expanded his palette to more strident colours. Through his experiments in colour and form, the artist depicted a bright sunlit view of contemporary life, prefiguring the works of the Fauves, with whom he was to exhibit alongside in the ground-breaking Salon d'Automne of 1905.
Combining bold colours and broad strokes, the artist's work exemplifies that transitional period of art, which followed the Impressionist movement and led to significant changes in the artistic practice of the twentieth century.
Louis Valtat's work is included in numerous collections around the world, such as, the Metropolitan Museum of Art, New York; Museum of Modern Art, New York; Hermitage Museum, Saint-Petersburg.
Related artists