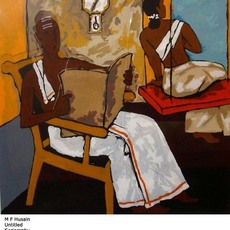 M. F. Husain
Indian, 1915–2011
Bio
View a short movie on Culture of the Street - https://youtu.be/7IWsQ6fpnVw.
M. F. Husain (1915-2011), a self-taught artist, began his career by painting billboards for feature films and making furniture designs and toys to earn a living. When he took up painting as an art form, however, he returned time and again to his roots, and to themes that blended folk, tribal and mythological art to create vibrantly contemporary, living art forms. In 1948, he was invited by F.N. Souza to join the Progressive Artists' Group (PAG) a group of artists inspired by the "new" India after the Partition of 1947.
Husain's rise as a public figure had as much to do with his style and presentation, as it did with his themes. His narrative paintings, executed in a modified Cubist style, can be caustic and funny as well as serious and sombre. His themes – sometimes treated in series – include topics as diverse as M.K. Gandhi, Mother Teresa, the Ramayana and Mahabharata and the British Raj, and motifs of Indian urban and rural life. Early in his painting career, and until his death, he enjoyed depicting the lively and free spirit of horses in many of his works.
His endless quest for his cultural roots and a fearlessly open-minded willingness to absorb diverse influences has made M.F. Husain one of the most recognisable and sometimes controversial figures of modern Indian art. In a career that spanned seven decades, Husain also made feature films, such as 'Through the Eyes of a Painter', in 1967, which was a Golden Bear Award winner at the Berlin Film Festival, and 'Gajagamini' in 2000. The Government of India honoured him with the Padma Shri (1966), the Padma Bhushan (1973) and the Padma Vibhushan (1989) awards.
Related Artists