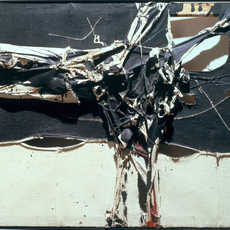 Manolo Millares
Spanish, 1926–1972
Bio
In the work of Millares, two great epochs can be distinguished: the first spans from the beginning of his work until 1955 and the second begins in that year and ends with his death. The fundamental change takes place around the use of the sacking, in 1955:
First stage:
The most important works of the first stage are the Canary pictographs. They are the result of their interest in Surrealism and the world of archeology, the deep roots of the disappeared cultures and the Guanche past of the inhabitants of the island. It will use the geometrical drawings of the aborigines of Gran Canaria and the cave signs of Barranco de Balos.
Second stage:
Millares begins to use the arpilleras, here they are still an element that adds to the surface of the painting along with other materials such as sand, ceramic or wood. The burlap is an evocation of the fabrics with which the Guanche mummies were wrapped, discovered by the painter in the Museo Canario.
Related Artists