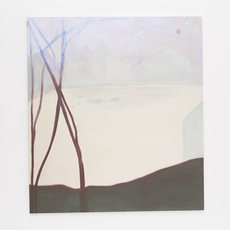 Marina Perez Simão
Brazilian, b. 1981
Blue-chip representation
Represented by internationally reputable galleries.
Bio
Marina Simão's working process is based fundamentally on the accumulation and juxtaposition of memories and images. By combining personal experiences and multiple references stemming from fields such as philosophy, literature and journalism, the artist collects certain narratives in order to edit them through pictorial means that do not belong to any predefined language; rather, they develop within an organic practice, which combines thematic density and a delicate treatment.
The artist takes techniques from different media such as painting, collage and drawing, as starting points in order to relate indoor and outdoor landscapes; composing visual journeys that sometimes go through the unknown, the abstract, the nebulous, and other times through clearings, visions and reappearances. While her works explore the complexity of signs, the gaze and imagination, they do not place themselves up to a constant transformation of impressions. In the territories to which they lead us, we always have to deal with the in-apprehensible, with the unspeakable instant.