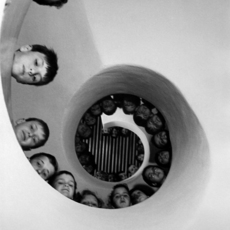 Martine Franck
Belgian, 1938–2012
Established representation
Represented by industry leading galleries.
Career highlights
Solo show at a major institution
Centre Pompidou
Group show at a major institution
International Center of Photography (ICP)
Reviewed by a major art publication
Artforum
See all past shows and fair booths
Bio
In 1963, Martine Franck went to China, taking her cousin's Leica camera with her, and discovered the joys of documenting other cultures. Returning home via Hong Kong, Cambodia, India, Afghanistan and Turkey, and bought her first camera while on the trip. Returning to France, she worked as a photographic assistant at Time-Life where she developed her own technique.
In 1966, Franck met her future husband Henri Cartier-Bresson, whose photographs epitomized Magnum's tradition of humanitarian photography. Franck was adamant that she would neither bask in his reflection nor disappear in his shadow and she joined the Vu Agency in 1970. Her first solo exhibition was planned for the ICA in London that year; when she saw that the invitations were embossed with the information that her husband would be present at the launch, she cancelled the show. With Vu's demise, Franck co-founded the Viva agency in 1972. It also collapsed and it was not until 1980 that Franck joined Magnum, becoming a full member in 1983. She was one of the few women to be accepted into the agency and served as vice-president from 1998 to 2000. Eschewing the war/human tragedy reportage that characterized Magnum's reputation, Franck continued her projects on marginal or isolated lives throughout the rest of her life.
Related artists