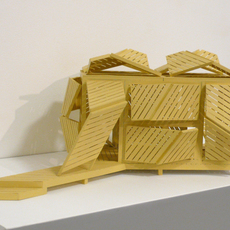 Michael Jantzen
American, b. 1948
Bio
Michael Jantzen is an internationally known artist whose work has been featured in hundreds of articles, books, magazines, and newspapers from around the world. His work attempts to merge art, architecture, technology, and sustainable design. He has not been educated as an architect but rather as an artist, using architecture as an art form. By incorporating his surroundings, he assimilates his pieces simultaneously to fit within the environment and likewise the environment to accommodate his pieces. Much of his work, in one way or another, explores new ways of thinking about the built environment.
Jantzen has always approached his art and design as an inventor, rather than a stylist. By creating architectural art, he is reinventing the built environment so that it can continually be altered to meet the changing needs and desires of its occupants. At times, he attempts to invent systems and components that can be assembled and reassembled in various ways, thus creating form from symbolic references, which relate directly to the specific site and/or function of the project. As a result, another aesthetic component evolves that is unexpected yet equally relevant.
His work has been featured in Wallpaper, Architecture Magazine, Architectural Digest, The AIA Journal, House & Garden, Popular Science, Domus, Esquire, Dwell, Metropolis, ARTFORUM, and Newsweek. Newspapers include, The New York Times, The Los Angeles Times, The New York Daily News, The Chicago Tribune, Der Spiegel, The Washington Star. Some of the books include, "Architecture in the United States", "Architecture Now", "Architecture in the 20TH Century", "The 21st Century House", "Brave New Houses", "Architecture Art, High Tech", "The Solar Living Source Book", and more.
Michael Jantzen received his B.S. Degree (Fine Arts) from Southern Illinois University, Edwardsville (1971), and his M.F.A. Degree (Fine Arts, Multi Media) from Washington University in St. Louis, St. Louis, Missouri (1973).
Related Artists