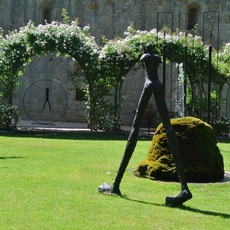 See all past shows and fair booths
Bio
Nathalie Decoster lives in an old factory turned into a workshop. After her debuts at the Arts Deco's workshops, she improved her nathalie decoster technique by working with a sculptor, allowing her a freedom of creation and technique, and to evolve on her own creations.
She realises figurative sculptures associated to geometrical figures in order to deliver her, sometimes funny, messages.
The artist works notably on bronze of which she appreciates the purity of lines and simplicity. Nathalie Decoster also explores other materials such as aluminium, stainless steel, concrete, and glass but also recycled materials finding a second life in her artworks.
She recently introduced the color red as a symbol of life into her pieces.
Through her exhibitions and universal language, Nathalie Decanter speaks to audiences of all cultures and origins that she sees as 'genuine spiritual food' feeding her reflexions.
She delivers universal messages about the human condition, the relationship between human-beings and time, human weaknesses and essential values often forgotten in our modern lives.
She shares her reflexion with businesses and uses her role of mediator, as an artist, for them, either by punctual interventions, as conferences or by creating a piece issued from the common reflexion of the artist and the company.
"In our sometimes dehumanised world, to allow the right to free our very solicited minds, not being guilty of taking time for ourselves." N. Decoster
Nathalie Decoster supports associations helping children ( Paris Tout Petit and Unicef)
Related artists