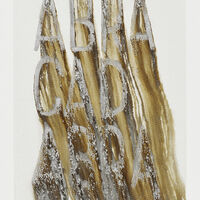 Navid Nuur
Iranian-Dutch, b. 1976
Bio
Navid Nuur researches the way in which specific spaces and materials can engender new
experiences, shifts in attention and perceptual thresholds. Having thoroughly digested the
advancements of conceptual and post-conceptual art, Nuur's return to materials, crafts, to the
innovations and affects they can occasion, is a critical and much as sensuous investigation of their
role in a new kind of aesthetic experience. His work is an expansive sensorium, where the
distances between magic and science, between speaking through objects or materials and
speaking in critical jargon, between tactility and touch screens, the sleight of hand and the
movement of electricity are enlighteningly compressed.
Related artists