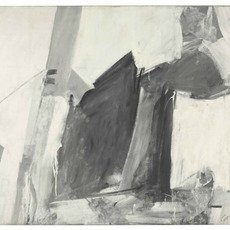 Nicolas Carone
American, 1917–2010
Bio
Nicholas Carone (1917-2010) is best known for his association with the New York School of Abstract Expressionists who came to prominence in the 1950s. He was born to Italian immigrants in Manhattan's Lower East Side in 1917, the eldest of seven children. He was raised in Hoboken, New Jersey and began attending art school on the nights and weekends at age eleven at the Leonardo da Vinci Art School in Manhattan. After high school he studied at the Art Students League and the National Academy of Design and with Hans Hoffman before serving in World War II. In 1947 he won the prestigious Prix de Rome and spent three years in Italy on the G.I. Bill starting in 1948. In 1949, he was awarded a Fulbright Fellowship. In Rome, living on Via Margutta, he met Alberto Burri, Conrad Marc-Relli and the surrealist Matta, all of whom he would form important, lifelong friendships with. In 1951 he returned to New York City, exhibiting his paintings in the now famed "Ninth Street Show". He became the founding director of Eleanor Ward's seminal Stable Gallery and had several important one-man exhibitions of his paintings there, beginning in 1954. As the gallery curator, he gave shows to friends and painters he admired such as Guston, de Kooning, Pollock and Motherwell.
In the early 1950s, he moved to the Springs at the far end of Long Island. With the help of close friend Jackson Pollock, he found a house near the other artists. He maintained a studio and apartment in Manhattan and exhibited at the Stable and then at Staempfli gallery, throughout the next decade. In the 1960s he was a founding faculty member of the New York Studio School, where he taught for over 20 years, also teaching at Columbia and Cornell.
In the early 2000's, the artist began making stark, black and white abstractions that again obscure the boundary between figuration and abstraction.
Related artists