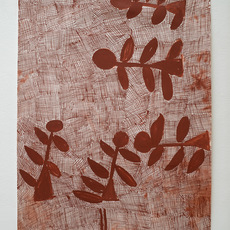 Established representation
Represented by industry leading galleries.
Bio
Nyapanyapa comes from rich artistic genealogy including musicians Mandawuy Yunupingu of Yothu Yindi and Geoffrey Gurrumul Yunupingu. In spite of being taught by her father, great Gumatj patriarch and artist Munggurrawuy, Nyapanyapa's art practice remains independent of bark painting traditions of the Yirrkala region/Yolgnu people of Arnhem Land. Her works are unique because they are highly personal and not defined by sacred law. They represent the stories and memories from her life - both past and present. Her paintings contain both figurative and abstract elements, each a story within a rectangular frame.
The intriguing feature of Nyapanyapa's practice is that she paints not to please an audience but rather to experience the making of a mark. Like many abstractionists, her work is process driven and improvisatory. The authenticity of the gesture penetrates the viewer. With each mark she has no idea what the next will be, she lives in the moment. Perhaps this is the outcome of a dance that has been going on for 40,000 years.
Related Artists