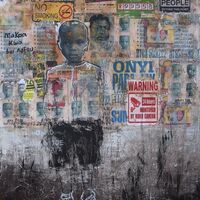 Onyis Martin
Kenyan, b. 1987
See all past shows and fair booths
Bio
Born in 1987 in Kisumu. Lives and works in Nairobi.
In 2010, he studied art in the Mukuru Art and Craft. Onyis Martin is investigating the constructs of cultural identity inspired by his own reality between Nairobi and his countryside Kisumu. The issues of migration, globalization, capitalism, religion and power has always been a subject of interest for him. In this body of work he is juxtaposing the crow and the human figure, comparing and un-comparing, looking at how the life of the crow tells the story of humankind or vice versa.How this information could be used to tell the story of human movement and globalization and the meaning we give to things. The crow in some culture is a symbol of death or bad omen, in this body, the crow for him symbolizes the immigrants. Could this be the same? What does the host countries say about immigrants?
Since 2016, he has been taken part of many fairs in Taiwan, 1:54 art fair in London and in New York, residencies in Germany and Poland. He exhibits in several exhibitions in Australia and in large institutions in South Africa, including the Cape Town Zeitz Museum in 2019.
Related artists