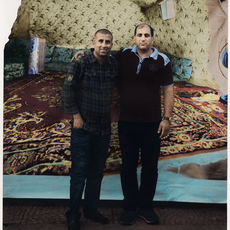 osama Esid
Syrian, b. 1970
See all past shows and fair booths
Bio
Born in Damascus in 1970, Osama Esid studied at the Technical Institute of Damascus. In 2003 he traveled to Cairo, Egypt, where he established his studio and remained for three years. From 2003 until 2005 he developed the majority of his series in Cairo and also worked in Lehnert & Landrock workshop, restoring 1914 glass plates and also as a stage designer.
Esid has received several awards for his work, including the Minnesota State Fair Fine Arts Award in 2008, and, during the same year, he was awarded a McKnight Foundation fellowship, with the resulting work displayed in 2010 at Franklin Art Works in Minneapolis. Esid has had many solo exhibitions in various galleries in Spain and France and has also presented his work at several international art fairs, such as Art Dubai, Art Hong Kong, Art Shanghai, and Paris Photo. In 2010, Tropen Museum in Amsterdam acquired a selection of his works for their permanent collection.
Esid holds regular workshops in the Middle East, mostly Dubai, Kuwait, and Bahrain, teaching alternative printing processes such as Van Dyke brown, cyanotype, paper negative, and wet plate collodion—for photographers and artists.
Related Artists