Paula Rego
Portugese, born 1935
842 followers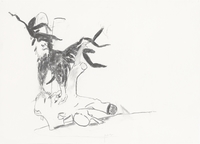 Untitled,2016
74 x 101.7cm
Paula Rego (b. 1935) _Untitled_ signed 'Paula Rego' (lower centre) charcoal from Mackintosh Library and graphite on paper 29 1/8 x 40in. (74 x 101.7cm.) Executed in 2016...
Crate,2008
153 x 103cm
PAULA REGO (B. 1935) _Crate_ **** conté crayon, watercolour, charcoal and graphite on paper 60 ¼ x 40 ½in. (153 x 103cm.) Executed in 2008...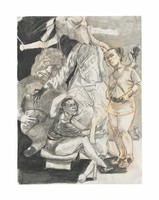 Human Cargo (Transport),2007
137 x 101.3cm
PAULA REGO (B. 1935) _Human Cargo (Transport)_ **** graphite, watercolour and crayon on paper 53 7/8 x 39 7/8in. (137 x 101.3cm.) Executed in 2007...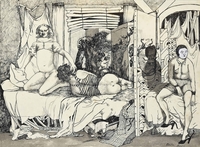 Untitled,1971
24.5 x 33cm
Paula Rego (B. 1935) Untitled signed 'Paula Rego' (lower right); dedicated and dated 'To Malcolm with love 5th November 1971' (on the reverse) ink and gouache on paper 9 5/8 x 13in. (24.5 x 33cm.)...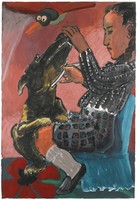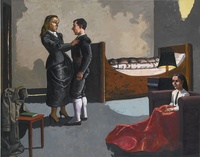 A masterful work of psychological and symbolic intensity, The Bullfighter's Godmother is Paula Rego at her dramatic finest: a deeply human and poignant painting that illustrates a parable of contradic...
Sotheby's
February 10, 2016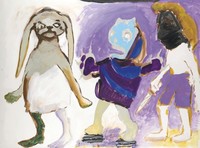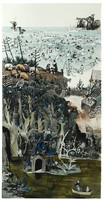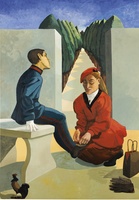 The Cadet and his Sister is a psychologically charged work by the impassioned painter of 'stories' Paula Rego. Executed in 1988 the work dates from a seminal turning point in the artist's idiosyncrati...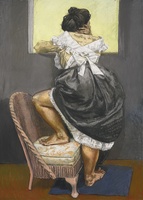 Executed in 1997, Portuguese born Paula Rego's Looking Out is a paradigmatic example of the artist's powerful Father Amaro series, which subtly fuses delight and menace in equal measure to explore the...