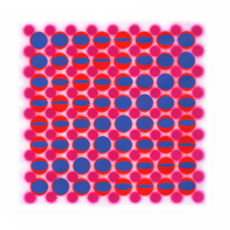 Peter Monaghan
Irish, b. 1955
See all past shows and fair booths
Bio
A graduate of the National College of Art and Design, Dublin, Peter Monaghan has had his own graphic design business, worked as an art lecturer in the Dun Laoghaire College of Art and for the past decade produced distinctive, sought-after art pieces.
His graphic and industrial design won a number of awards, including several sponsored by the Institute of Creative Advertising and Design, the IDI and the European Design Annual. In 1983 he set up his own firm, Monaghan Design and later became a partner in Creative Inputs, working with such clients as AIB, ESB, Jefferson Smurfit and the Office of Public Works. He also designed a number of catalogues for the National Gallery, the Hugh Lane Gallery and the Irish Museum of Modern Art.
In 1999 he gave up design work to concentrate full-time on painting and sculpture. Since then he has exhibited his work in many cities around the world including London, New York, Miami, Singapore, Brussels and Hong Kong. Monaghan's work has also been chosen for display at the RHA annual exhibition regularly in the past decade.
Peter's artwork won national recognition in 2010 when he won the Jim McNaughton / TileStyle €10,000 Bursary for Commissioned Artists as part of the National Allianz Business to Arts Awards.
His commissioned work can be seen in prestigious locations such as the V.I.P. Presidential Suite in Dublin Airport, the Gibson Hotel in the Point Village, the Beacon Clinic and he has produced large-scale installations for UCD's recent scientific centre, The Marker hotel in collaboration with architectural firm Scott Tallon Walker and One Grand Parade in collaboration with architectural firm O.M.S.
His work is an exploration of the relationship between two and three dimensions and the optical effects achieved through colour, shape and illusion. 
Related artists