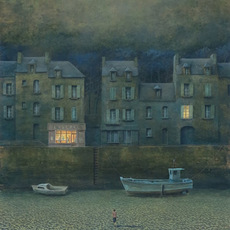 Philippe Charles Jacquet
French, b. 1957
Bio
Born in Paris 1957, Phillipe Charles Jacquet's works reflect memories of solitude and solace discovered on the Brittanic coasts. Through breathtaking scenes, he shares his childhood experience of sailing the river Rance where the heart stop to pause amidst seasonal hues and the reflective flow of water. The resultant landscapes encapsulate the liminality of human presence in the vast beauty of natural space.
Jacquet's unique process of creation express both his personal journey as a self-taught painter, and his formal studies as an architect. After graduating from Ecole Nationale Supérieure des Arts Décoratifs, he pursued a career in architecture before devoting himself fully to painting. Still, architectural instinct is seen in his compositional attention to symmetry and variance in technique and finish. He constructs rather than paints the human structures placing them with sensitivity to the physical as well as subliminal distance between sky, land, and human.
Yet the designed elements of such scenes are balanced with a wild richness of color and broad expanses of texture. Surfaces of bark, granite, waves, or wheat are all created from a foundational layer of glossy paint. They are then crafted each in their own unique way: dripping, layering, transparent washes, and some even by scratching. This sensorial universe is a visceral experience of the rust of years, the gold of the wheat, or the soothing silk of water. The human presence becomes a detail set against vastness of nature, suspending time and inviting dreams to play or perhaps remember.
Related Artists