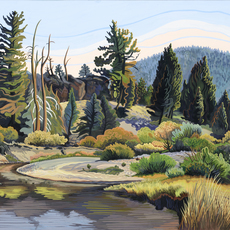 Bio
Painting en plein air throughout the western United States, Phyllis Shafer's work captures rhythms, vitality, and unique idiosyncrasies of the western landscape.
After receiving a Master of Fine Arts degree from the University of California, Berkeley, in 1988, Shafer continued to exhibit her work and teach part-time in the San Francisco Bay Area. In 1994, she moved to Lake Tahoe, a place that deepened her interest in the natural world and the metaphorical possibilities it provides for painting subjects.
Shafer's work is part of the Tucson Museum of Art and the Nevada Museum of Art's permanent collection, as well as many private and corporate collections throughout the western United States.
Shafer's work has also been selected to represent the conservation project "Protect Lake Tahoe," spearheaded by the non-profit organization Alpen Group, based in Reno, Nevada. Her work is featured on a bus that travels around the regional area promoting public awareness of conservation efforts.
Related Artists