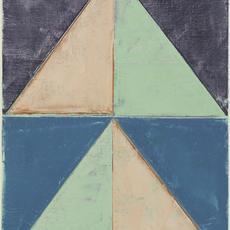 See all past shows and fair booths
Bio
Pius Fox's paintings and works on paper are determined by two main factors: elementary compositions and colour, which he applies to emphasize features, reinforce borders and to link superimposed layers together. Though defined by simplicity, many works reveal a great freedom, deliberately switching between abstract and figurative, between monochrome and colourful. Often minimalistic in their design featuring geometric shapes, originally deriving from features of his studio interior like door frames, curtains and windows, the works have recently become more complex and symbolically charged through poetic titles.
His small format compositions of only few lines, basic grids and simple shapes remind us of the paintings of Raoul de Keyser or the abstract works of Richard Diebenkorn, though they greatly differ in the treatment of the surface. Fox likes to divide the image and not to treat the image area as a whole. He intersects his compositions by inserting horizontal, vertical and even diagonal lines and inserts painted or drawn frames surrounding a main part of his works. The spectator journeys through his oeuvre as if through a labyrinth, digging into depth to uncover what cannot be fully grasped at first sight.
Fox is a painter who appreciates traditional materials like oil on canvas or paper as well as watercolour, but for inspiration he also experiments with other media like drawing, photography and printing. Whichever medium he decides for, colour plays a central role and is often a starting point for the pictorial content. Fox thereby reverts to secondary and tertiary colors, frequently coloured grey tones: antique pink, grey-green, a blue or purple black. In addition, the works show a strong spatial quality, as Fox plays with different layers, overpaints elements or scratches on the surface to reveal the layer beneath.
Related artists