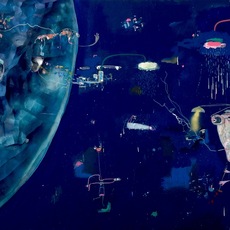 Rafa Macarrón
Spanish, b. 1981
Bio
Rafa Macarrón (Madrid, 1981):
Young self-taught artist, bearer of a strongly personal style highly influenced by dreams and childhood reminiscences. His painting is characterized by striking chromaticism and the presence of figures with hydrocephalus and threadlike tips.
Macarrón has participated in a large number of both individual and group exhibitions nationally and internationally, as well as having taken part at numerous Art Fairs such as Zona MACO (Mexico), ARCO (Madrid), ArtBo (Bogotá), ArtMadrid, ArteSantander, Scope Basel and Art Miami.
Winner of the 2010 BMW Painting Awards and despite his youth, Macarrón´s work has been reviewed in numerous occasions, and published in press and media, emerging as one of the contemporary artists of greater scope in such short period of time.
Related Artists