Richard Hamilton
British, 1922-2011
2,784 followers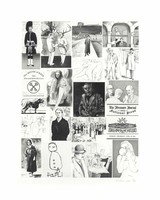 How a Great Daily Organ is Turned Out,1990
762 x 559 mm
RICHARD HAMILTON (1922-2011) How a Great Daily Organ is Turned Out composite of twenty mixed intaglio plates, on Hahnemüle paper, 1990, signed in pencil, numbered 29/120 (there were also twelve arti...
Christie's
Jul 11, 2017 - Jul 19, 2017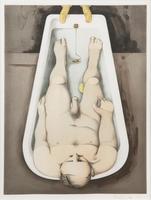 Richard Hamilton - He Foresaw His Pale Body (L. 173),1922-2011
Richard Hamilton (British, 1922-2011) He Foresaw His Pale Body (L. 173), 1990 Sugar-lift aquatint, roulette, and heliogravure Signed in pencil lower right Marked '1/120' 20 ¼ by 14 ¾ inches, ba...
Julien's
2017-05-11 21:00:00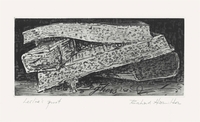 Homage to Seghers,1922-2011
252 x 335 mm
Richard Hamilton (1922-2011) Homage to Seghers gravure and aquatint, 1982, on Rives wove paper, signed in pencil and inscribed _Leslie's Proof_, aside from the edition of forty (there were also four...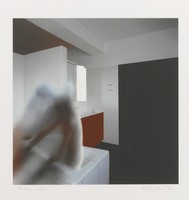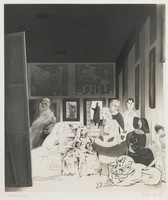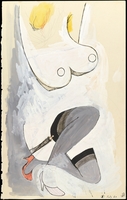 Pin-up Sketch V,1922-2011
36.8 x 23.2cm
Richard Hamilton (1922-2011) _Pin-up Sketch V_ numbered and dated '1 July 60' (lower right) ink, gouache, watercolour and pencil on paper 14 ½ x 9 1/8in. (36.8 x 23.2cm.) Executed in July 1960...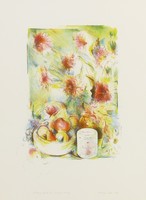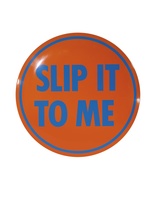 At once fusing Pop and Op art, as well as audaciously referencing James Joyce and Marcel Duchamp, Epiphany is a seminal work by Richard Hamilton that assimilates several themes of great significance t...
Sotheby's
February 10, 2015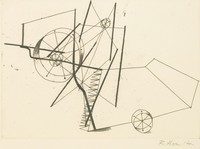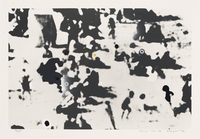 People,1922-2011
65.5 x 84.5cm
Richard Hamilton (1922-2011) _People_ signed, titled and numbered 'People Richard Hamilton Artist's proof IV/IV' (along the lower edge) colour photograph and screenprint, collage and handcoloring o...