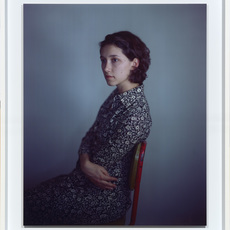 Richard Learoyd
British, b. 1966
Blue chip representation
Represented by internationally reputable galleries.
Career Highlights
Group show at a major institution
International Center of Photography (ICP)
Collected by a major institution
Museum of Modern Art (MoMA)
See all past shows and fair booths
Bio
Richard Learoyd's color images are made with one of the most antiquarian of photographic processes: the camera obscura. Literally translated from Latin as "dark room," Learoyd has created a room-sized camera in which the photographic paper is exposed. The subject—often a person, sometimes a still life—is in the adjacent room, separated by a lens. Light falling on the subject is directly focused onto the photographic paper without an interposing film negative. The result is an entirely grainless image. The overall sense of these larger-than-life images redefines the photographic illusion. Learoyd's subjects, composed simply and directly, are described with the thinnest plane of focus, re-creating and exaggerating the way that the human eye perceives, and not without a small acknowledgement to Dutch Master painting.
Learoyd's black-and-white gelatin silver contact prints are made using the negative/positive process invented roughly 170 years ago by Englishman W. H. Fox Talbot. Working with a large and portable camera obscura of his own construction, Learoyd has journeyed outside of his London studio, into the art-historically rich English countryside, producing images that have long been latent in his imagination. The negatives are up to 80 inches wide, resulting in the largest gelatin-silver contact prints ever made.
In the fall of 2015, Aperture released Richard Learoyd: Day for Night, a comprehensive book of color portraits and studio work., and concurrently, the Victoria & Albert Museum in London mounted Dark Mirror, an exhibition of his large-scale portrait and still-life photographs. The J. Paul Getty Museum will present a solo exhibition of Learoyd's work in 2016.
His work is included in the collections of The Getty, Tate, Victoria & Albert Museum, Centre Pompidou, The Metropolitan Museum of Art, San Francisco Museum of Modern Art, Nelson-Atkins Museum, National Gallery of Canada, and Yale University Art Gallery, among others.
Related Artists