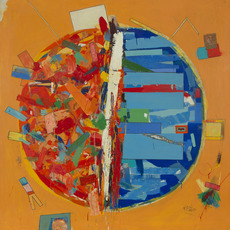 Robert S. Neuman
American, b. 1926
Career highlights
Group show at a major institution
The Museum of Modern Art (MoMA)
Collected by a major institution
Museum of Modern Art (MoMA)
Reviewed by a major art publication
Artforum
Included in a major biennial
Whitney Biennial
See all past shows and fair booths
Bio
Painted in Barcelona, Spain, Robert Neuman's Barcelona paintings, of which this is an early and important example, mark his maturation as a painter able to assimilate a variety of influences including Bay Area Abstraction, the New York School and European Art Informel. Not bad for a young man raised in the rural mining town of Kellogg, Idaho!
Arriving in San Francisco in 1947, at age 21, Neuman would first be exposed to the work of Richard Diebenkorn, Sam Francis, Clyfford Still, David Park and others. These California painters would immediately and irrevocably influence him. He writes of his experience:
"Coming from the State of Idaho to San Francisco and walking into the museum, green as a cucumber, and seeing Clyfford Still for the first time, and Sam Francis and Richard Diebenkorn all hanging there, was quite a shock. Here I'd been painting views of Coeur d'Alene Lake with the mountains!...I thought, 'I wonder what there people are doing.' I didn't condemn them at all--I thought: 'If they're in a museum there must be something to it. I don't know what but I'm going to look.'"
And look he would in a career that would take him to Europe, New York, and New England and would see him exhibit in some of the same museums as his mentors.
The "Barcelona Series" paintings see Neuman transition from the dark, deeply mystical works painting in post-war German and aptly named the "Black Series". The incandescent, spilled red circle in the painting gives us a sense of the heat, sun and passion of his new home. Indeed, he writes about the impact of the Spanish sun on his work.
His work can be found in the collections of the MOMA, NY; the Hood Art Museum; the Museum of Fine Arts, Boston; and the Harvard University Art Museums, among others.
Related artists