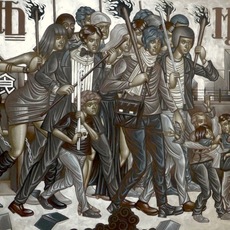 Stelios Faitakis
Greek, b. 1976
Bio
The foundation of Stelios Faitakis' work is the Cretan School of Byzantine painting, a traditional artistic
language of his land of origin. With this as his basic practice, he is also deeply influenced from other respective
traditions of the world, such as Tibetan and Japanese Art, the Flemish School of Art, Mexican muralism, Indian
and Persian Miniature paintings, Miniatures from Medieval Europe.
Appropriating the archaic representational method of Christian Holy Iconography into a contemporary
signature style of his own, the core of his practice has strongly anthropocentric character evolving around the
human condition - a universal endeavor to question the essence of our existence through religious,
philosophical, spiritual, scientific, historical and social references. Having created a highly intellectual portfolio
of work, meticulously constructed from study to completion and despite the complexity of its conceptual
structure, the first and foremost purpose of the work of Faitakis is to deeply move the viewer emotionally.
His choice of medium ranges from works on paper, wood and canvas to large-scale murals, using organic
forms to overlap and conceal the geometric constructions that are used as the foundation of each work.
Related artists