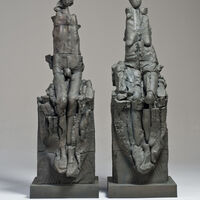 Stephen De Staebler
American, 1933–2011
Bio
Stephen De Staebler, a sculptor whose fractured, dislocated human figures gave a modern voice and a sense of mystery to traditional realist forms, died on May 13 at his home in Berkeley, Calif. He was 78.
The cause was complications of cancer, Jill Ringler, his studio archivist, said.
Mr. De Staebler found his medium when he met the pioneering ceramist Peter Voulkos at the University of California in the late 1950s. Impressed by the expressive possibilities of clay, he began making landscape-like floor works.
In the late 1970s he began coaxing distressed, disjointed humanoid forms from large, vertical clay columns. Colored with powdered oxides and fired in a kiln, they presented potent images of broken, struggling humanity.
"We are all wounded survivors, alive but devastated selves, fragmented, isolated — the condition of modern man," he recently told Timothy A. Burgard, a curator at the Fine Arts Museums of San Francisco, who is organizing a De Staebler retrospective. "Art tries to restructure reality so that we can live with the suffering."
Stephen Lucas De Staebler was born on March 24, 1933, in St. Louis. While working toward a bachelor's degree in religion at Princeton, he made art on the side and spent a summer at Black Mountain College studying painting with Ben Shahn and Robert Motherwell. After receiving his bachelor's degree in 1954, he served with the Army in West Germany. He enrolled at Berkeley intending to teach art in the public schools but, after receiving his teaching credentials, earned a master's degree in art in 1961.
He exhibited widely, particularly in the Bay Area, where he taught for many years at the San Francisco Art Institute and San Francisco State University.
Related artists