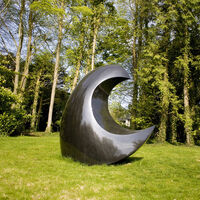 Steve Dilworth
British, b. 1949
See all past shows and fair booths
Bio
Steve Dilworth was born in Yorkshire, studied at Maidstone College of Art and since 1983, has lived and worked on the remote Isle of Harris, Scotland.
The landscape of eastern Harris is both rugged and beautiful in the extreme, with exposed rock three thousand million years old left by scouring glaciers from the last ice age. The energy and presence of such surroundings are powerfully conveyed in Dilworth's work and he is renowned for using a vast range of natural materials, mostly found on the island. Indeed Dilworth used 'once-living' objects in his work long before it was fashionable in contemporary art.
The internal and external parts of his sculptures are considered equally, and many are containers holding other elements, some visible, some not. His ritualised method of construction adds a shamanistic quality to his work. This primitivist element is almost always present although some of his elegant formal carvings owe more to a modernist inspiration.
Dilworth often encases natural objects he has found within his sculptures. The solid remains of animals and birds, beautiful in their own right, impart an energy and life to his sculpture. Even when completely enclosed, like the heart in a living body or the engine in a static vehicle, they empower the sculpture in both conceptual and symbolic ways. Dilworth says:
"I want to retrieve that moment of understanding, not by describing but by making. Of course I'll fail, but in that chemistry of making another moment will appear. These objects are drawn from an internal landscape of shifting sands, connections are constantly being discovered".
Many of Dilworth's works belong to permanent collections, such as the Scottish Arts Council Collection and the Knox Collection in Suffolk. He has also undertaken numerous private and public commissions for various institutions including Scotia Pharmaceuticals, Dundee City Council and Cass Sculpture Foundation.
Related artists