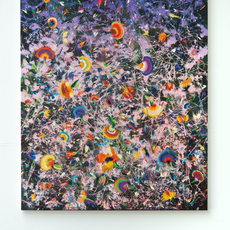 Thierry Feuz
Austrian-Swiss, b. 1968
See all past shows and fair booths
Bio
The painter Thierry Feuz (born 1968), an Austrian native who is based in Geneva, broke through on an international level at the start of this century with his striking and extraordinarily vital canvasses.
Through powerful colours and gestures they evoke a natural world that is simultaneously bathed in an alien and tantalising artificiality. He uses car paint, a rarity in the world of painting, to give his paintings a high-gloss finish that implies he views the natural world from the perspective of our artificial and urbanised existence. The resulting fantastic works have been divided up by Feuz into a magnificent series, each with their own character.
The perfect and balanced compositions, the thrilling and audacious color combinations, the use of strong and pure paints, the clarity and cleanness of the structures, the elaborated design of the single painted elements, and the lack of classical perspective, the depth of focus by means of the blurring of some depicted elements are inherent parts of all works. Because the images always oscillate between abstraction and figuration, there is no direct narration but a lot of space for interpretation. Nevertheless the bright colors are spreading out on the canvas like a firework and are generating either biomorphic shapes or, in another series of paintings, geometric horizontal lines. The fascinating pictures with its color explosions and psychedelic plays of colors leave a deep impression without the understanding at first sight what is going on.
Related artists