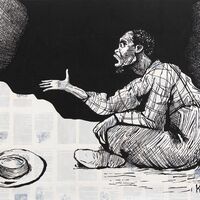 Tim Rollins and K.O.S.
American, Active 1981–2017
Bio
Beginning in 1981, Tim Rollins collaborated with a group of young people he called the "Kids of Survival," originally comprised of middle school students from the South Bronx school where Rollins was a teacher. Since then, a number of students of …
See all past shows and fair booths
Artsy Consignments
Sell Works from Your Collection
Get competitive offers from the world's top auction houses and galleries to take your works on consignment. It's simple and free to submit.