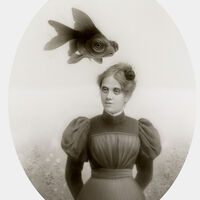 Travis Louie
American, b. 1964
Bio
Travis Louie was born in Queens, New York, and he currently lives and works in Red Hook.
The lighting and atmosphere of German Expressionist and Film Noir mostly influence his visual style, indeed films from directors like Orson Welles, Robert Aldrich, Jacque Tourneur, and cinematographer, Greg Toland, had a great effect on his art.
Louie has created his own imaginary world grounded in Victorian and Edwardian times and inhabited by otherworldly characters: his art shows his fascination with human oddities, circus sideshows and Victorian portraits, all blended together. Furthermore, his vintage imaginaries and their dramatic mood come from the use of black and white acrylic colours over tight graphite drawings; those materials give shape to his dreamy scenarios.
-from "Pages of Mind Travellers Diaries", 2017.
Related artists