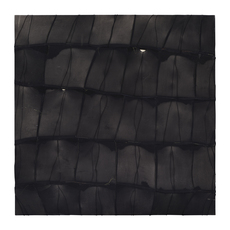 Turiya Magadlela
South African, b. 1978
Bio
South African artist Turiya Magadlela (b. 1978, Johannesburg, South Africa) works with art making techniques that are traditionally used by women, using sewing and embroidery on various conceptually loaded fabrics, from pantyhose to correctional service uniforms, and creates abstract compositions by cutting, stitching, folding and stretching these materials across wooden frames.
Her subject matter moves between articulations of personal experiences of woman and motherhood, and narratives from black South African history. Magadlela engages in a conversation on the colonization of black bodies and women; her art uses materials capitalist in nature at a time when commoditization is ever more prescient.
In 2017, Magadlela presented a solo exhibit at The Armory Show, NY. She has participated in numerous group exhibitions both locally and internationally, including Blue Black, curated by Glenn Ligon at the Pulitzer Arts Foundation; Simple Passion, Complex Vision: The Darryl Atwell Collection at the Gantt Centre; The Past is Present at Jack Shainman Gallery; and Blackness in Abstraction at Pace Gallery. In 2015, she was awarded the prestigious FNB Art Prize. She studied at the University of Johannesburg and the Rijksakademie in Amsterdam. In 2018, Magadlela was featured in a list of the top "10 African artists to invest in now" by the TimesLive, and shortlisted for the Jean-François Prat Prize.
Related Artists