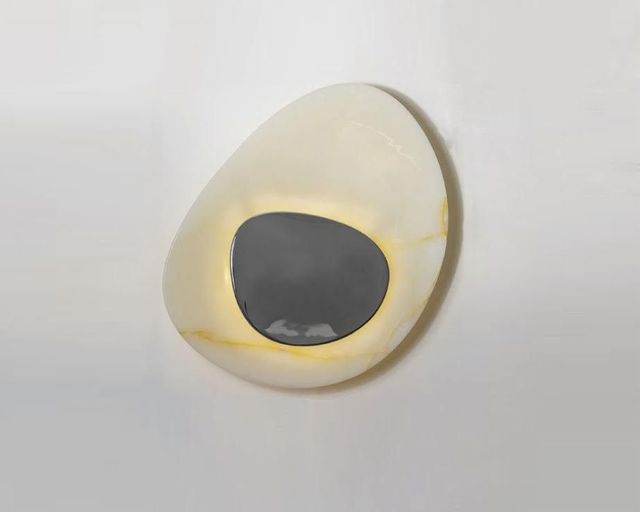 Oyster, Contemporary Hanging Wall Mirror, 2016
Onyx, aluminum, bronze
35 × 31 1/2 × 6 in
88.9 × 80 × 15.2 cm

This piece, one of a limited edition of six, is made up of an oblong mirror set in a beautifully …
Consistent with age and use.
Certificate of authenticity
An architect and designer, Achille Salvagni creates bespoke furniture, lighting, and other objects, and designs the interiors for exclusive residences and superyachts, blending a range of styles and materials. Drawing influence from luxury Italian design, from the Renaissance to the 1950s, Salvagni has created objects such as brass-and-onyx sconces and a bar cabinet made of ebony, brass, bronze, and glass. He frequently contrasts materials—rough with smooth, precious with ubiquitous—such as patinated bronze offset with polished fiberglass or LEDs. Speaking about moving away from the brand-oriented focus common to contemporary design, he has said, "You've heard of the Slow Food movement. I think of this as Slow Design."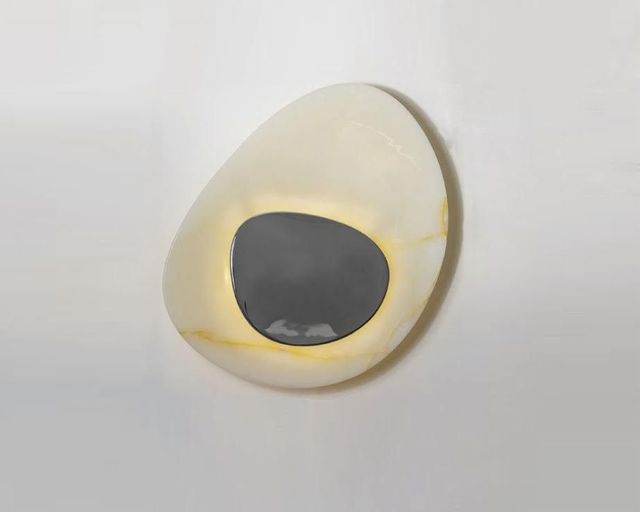 This piece, one of a limited edition of six, is made up of an oblong mirror set in a beautifully veined, slightly concave piece of onyx.
Consistent with age and use.
Certificate of authenticity
An architect and designer, Achille Salvagni creates bespoke furniture, lighting, and other objects, and designs the interiors for exclusive residences and superyachts, blending a range of styles and materials. Drawing influence from luxury Italian design, from the Renaissance to the 1950s, Salvagni has created objects such as brass-and-onyx sconces and a bar cabinet made of ebony, brass, bronze, and glass. He frequently contrasts materials—rough with smooth, precious with ubiquitous—such as patinated bronze offset with polished fiberglass or LEDs. Speaking about moving away from the brand-oriented focus common to contemporary design, he has said, "You've heard of the Slow Food movement. I think of this as Slow Design."
Oyster, Contemporary Hanging Wall Mirror, 2016
Onyx, aluminum, bronze
35 × 31 1/2 × 6 in
88.9 × 80 × 15.2 cm