Amy Feldman's fluid gestural forms, limited to a white and gray palette, are at once cartoonish and highly minimalist. Embodying an exuberant optimism of a young Henri Matisse, Feldman creates signs that broadcast within and beyond the picture plane. Blessing Message (2015) takes a familiar symbol, the speech bubble, and stacks one atop the other, adding dimension but leaving the cultural interpretation to the viewer. Feldman has exhibited at Corbett vs. Dempsey, Chicago, Kunstmuseum Bonn, Germany, and Brand New Gallery, Milan.
Image rights: Courtesy of the artist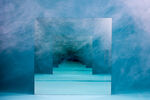 About Amy Feldman
Deceptively simple, Amy Feldman's large acrylic paintings feature loosely geometric motifs set against areas of bare canvas. New York Times critic Roberta Smith once noted "a kind of back-to-basics abstraction characterized by simple forms, not much color and an emphasis on process." This process ensues from a vague vision of the finished work and entails thumbnail sketches, taping the shapes onto the canvas, and finally, painting; Feldman's images evolve considerably along the way. In letting the paint drip where it will, Feldman seeks to retain the casualness of her preliminary sketches, often based on her surroundings, yet she also strives for poise. "I think, the unfinished (or seemingly unfinished) quality in my work feels like it is in a dialogue with the landscape…the forms are carefully articulated yet under-polished," she explains.
American, b. 1981, based in Brooklyn, New York
Solo Shows
2017
Amy Feldman: Nerve Reserve
2015
ANNAELLEGALLERY,
Stockholm,
Amy Feldman
Group Shows
2017
Albert Baronian,
Brussels,
Fair History on Artsy
2016
ANNAELLEGALLERY at CHART | ART FAIR 2016
2014
Blackston at Dallas Art Fair 2014
2013
Blackston at UNTITLED 2013