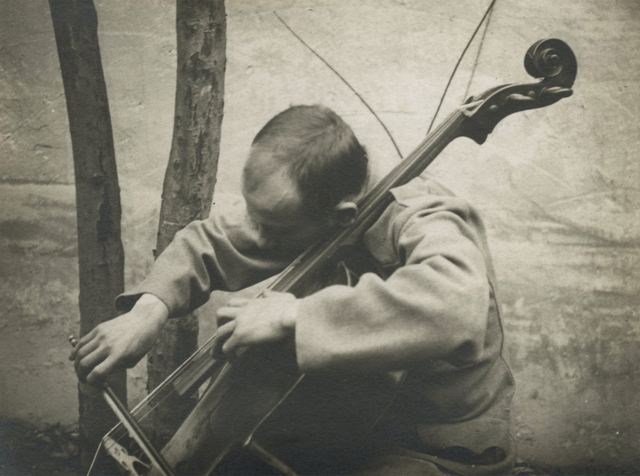 Cellist, 1916
Gelatin silver print; printed c.1916
1 5/8 × 2 1/8 in
4.1 × 5.4 cm
Signed and dated in pencil on print verso.
An important influence on photography both as journalism and as art, André Kertész is known for the visual lyricism and humanism that characterized his practice. A Hungarian-born Frenchman, Kertész moved to New York in 1936, having spent 1925-1936 in Paris at the centre of the émigré art world, where he photographed fellow artists such as Brassaï, Piet Mondrian, Marc Chagall, Alexander Calder, and Constantin Brancusi. It was not until 1964 that his work gained recognition in the U.S., when he was given a one-man show at the Museum of Modern Art. Today he is best known for his series of Polaroid studies of Washington Square Park, as well as his distorted nudes of the 1930s, which take the radical angles and manipulation of light and shadow of his street scenes and apply them to the human body to obtain a similar de-familiarizing effect. "The moment always dictates in my work," Kertész once said. "Everybody can look, but they don't necessarily see ... I see a situation and I know that it's right."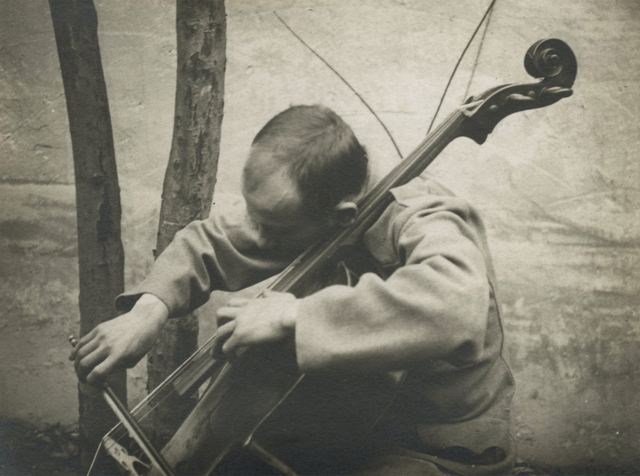 Signed and dated in pencil on print verso.
An important influence on photography both as journalism and as art, André Kertész is known for the visual lyricism and humanism that characterized his practice. A Hungarian-born Frenchman, Kertész moved to New York in 1936, having spent 1925-1936 in Paris at the centre of the émigré art world, where he photographed fellow artists such as Brassaï, Piet Mondrian, Marc Chagall, Alexander Calder, and Constantin Brancusi. It was not until 1964 that his work gained recognition in the U.S., when he was given a one-man show at the Museum of Modern Art. Today he is best known for his series of Polaroid studies of Washington Square Park, as well as his distorted nudes of the 1930s, which take the radical angles and manipulation of light and shadow of his street scenes and apply them to the human body to obtain a similar de-familiarizing effect. "The moment always dictates in my work," Kertész once said. "Everybody can look, but they don't necessarily see ... I see a situation and I know that it's right."
Cellist, 1916
Gelatin silver print; printed c.1916
1 5/8 × 2 1/8 in
4.1 × 5.4 cm