Antonio Pollaiuolo, Florentine painter, sculptor, draftsman and goldsmith, has long been considered a pioneer for his expressive portrayal of the human figure in action. Today, a relatively small number of his works survive, and he is perhaps most widely known for his sole venture in the field of printmaking, Battle of the Nudes. A landmark in Italian renaissance art, this magnificent engraving is unusual in several respects, being among the largest of all fifteenth century prints and one of the earliest to be signed with the full name of the artist who designed and executed it.
Such was the Battle's reputation during the Renaissance that it is one of the few prints to be mentioned by Vasari. In his Life of Pollaiuolo, published in 1550 and again in 1568, Vasari explains: 'He had a more modern grasp of the nude than the masters who preceded him, and he dissected many bodies to study their anatomy; and he was the first to demonstrate the method of searching out the muscles, in order that they might have their due form and place in his figures; and of those [nude figures] he engraved on copper a battle.'
The source or sources on which Pollaiuolo based the composition has long intrigued scholars, and to date no convincing explanation has been found. The lack of differentiation between the figures and the absence of obvious heroes and villains amplifies the ambiguity of the subject and suggests that Pollaiuolo did not intend to describe a specific historical or mythological battle scene. Perhaps his goal was to demonstrate his command of the male nude, both his understanding of its anatomy and his ability to render that knowledge in a manner that would appeal to artists, admirers and patrons. All this was done while exploring the potential of a new medium well adapted to his skills as a goldsmith.
During the 15th century, art portraying classical subjects executed in an all'antica style was increasingly admired, both for aesthetic reasons and the implied connections to a prestigious cultural past. The Renaissance fascination with classical models was manifest not only in thematic and stylistic references, but in the revival of specific types of antique objects as well. Battle of the Nudes is a prime example of this, with its frieze-like arrangement and lunging poses of the combatants recalling the sculpted reliefs of ancient sarcophagi. However, while Pollaiuolo may have been inspired by such sources, borrowing poses, figural types or other details and forming the general illusion of an antique image, he carefully introduced more space between the rows of figures, spreading them out in a careful arrangement to reveal more of their individual contours, while retaining enough overlap to suggest the frieze-like structure of antique reliefs.
This carefully calibrated spatial arrangement undoubtedly relates to Pollaiuolo's contribution to the development of the bronze statuette, a revival of an antique sculpture type initiated by Donatello. The portrayal of ten men, in a variety of active poses including paired opposites, provides the viewer with multiple viewpoints of the human form in action, as if rotating a statuette or moving around a sculptural form. The idea that this engraving is, in effect, a two dimensional representation of a three dimensional object is underlined by the striking similarity of the faces, suggesting a single model.
The popularity of Battle of the Nudes, and its influence on artists of Pollaiuolo's and subsequent generations, is underlined by the fact sufficient numbers were printed to necessitate the plate being re-engraved. Shelley R. Langdale's landmark study Battle of the Nudes: Pollaiuolo's Renaissance Masterpiece (Cleveland Museum of Art, 2002) includes a census of known impressions. Only one of the first state survives, acquired by the Cleveland Museum of Art in 1967. Of the forty five extant of the second state, the present example, number 29 in Langdale's list, is one of only two remaining in private hands.
Signature: Engraving, circa 1470-1475, on laid paper, without watermark, second, final state, a good, even impression of this highly important and rare print, trimmed to or fractionally into the subject on three sides and approximately 20 mm. into the subject at right, made-up areas at the lower left sheet edge and the lower right corner, other smaller repaired paper splits and losses elsewhere, some pale staining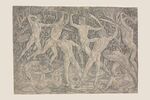 S.R. Langdale, Battle of the Nudes: Pollaiuolo's Renaissance Masterpiece, Cleveland Museum of Art, 2002, No. 29.
J.A. Levinson, K. Oberhuber, and J. Sheehan, Early Italian Engravings from the National Gallery of Art, Washington, D.C., 1973, no. 13 (another impression illustrated).
M.J. Zucker, The Illustrated Bartsch - Early Italian Masters, Abaris Books, New York, 1984, vol. 25, p. 13, no. 1 (another impression illustrated).
K.L. Spangenberg, Six Centuries of Master Prints: Treasures from the Herbert Greer French Collection, Cincinnatti Art Museum, 1993, no. 16 (another impression illustrated).
D. Landau and P. Parshall, The Rennaissance Print 1470-1550, New Haven & London, 1994, pp. 74-75 (another impression illustrated).
E. Lincoln, The Invention of the Italian Renaissance Printmaker, New Haven & London, 2000, pp. 30-31 (another impression illustrated).
PROPERTY OF A DISTINGUISHED EUROPEAN COLLECTOR
Private European Collection
With Hill-Stone, Inc., New York
Acquired from above by present owner