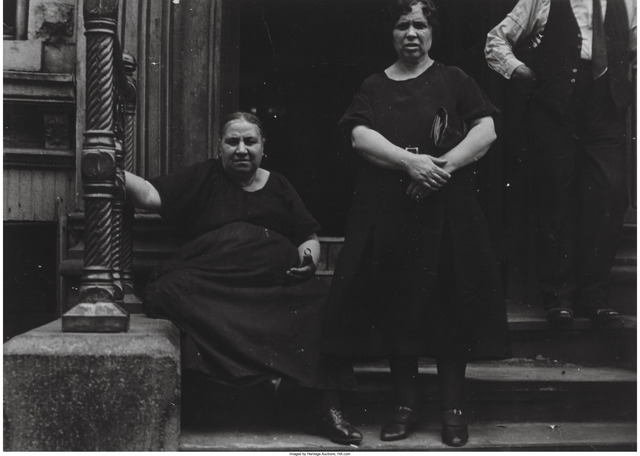 Untitled (Two women on a stoop), 1933
Gelatin silver
6 1/2 × 8 7/8 in
16.5 × 22.5 cm
Condition Report: Hinged to mat by upper corners verso; some silver mirroring; some possible water …
Signed and dated in pencil on verso.
Courtesy of Heritage Auctions
Named one of the "World's Ten Best Artists" by then-popular Look magazine in 1948 and renowned for his anguished, searingly bold imagery, artist and activist Ben Shahn protested against social injustice and honored ordinary people in lithographs, paintings, photographs, and public murals. For Shahn, art was a powerful tool for sociopolitical commentary and for urging and effecting change. As he asserted: "If we are to have values, a spiritual life and a culture, these things must find the imagery and interpretations through the arts."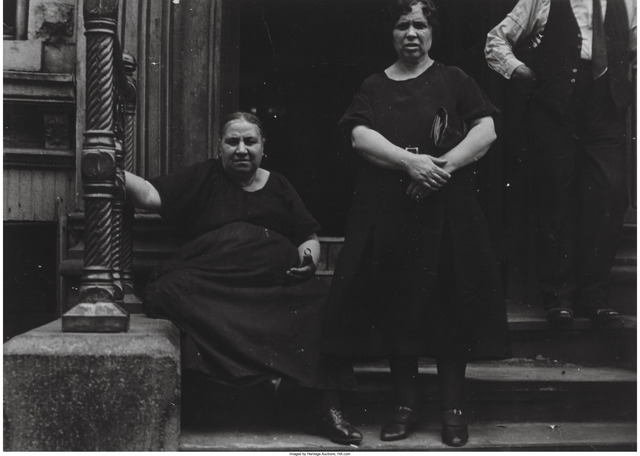 Condition Report: Hinged to mat by upper corners verso; some silver mirroring; some possible water drying spots; a few small bumps to the corners and along edges; one scratch approximately 1 inch long to the lower left quadrant with a small amount of loss; one crease approximately 3/4 inches long upper center and one …
Signed and dated in pencil on verso.
Courtesy of Heritage Auctions
Named one of the "World's Ten Best Artists" by then-popular Look magazine in 1948 and renowned for his anguished, searingly bold imagery, artist and activist Ben Shahn protested against social injustice and honored ordinary people in lithographs, paintings, photographs, and public murals. For Shahn, art was a powerful tool for sociopolitical commentary and for urging and effecting change. As he asserted: "If we are to have values, a spiritual life and a culture, these things must find the imagery and interpretations through the arts."
Untitled (Two women on a stoop), 1933
Gelatin silver
6 1/2 × 8 7/8 in
16.5 × 22.5 cm