French Moroccan photographer Carolle Bénitah explores the process and construction of identity, as well as the role of women within marriage and family, by reinterpreting her own history as daughter, wife and mother. In her internationally acclaimed series Photos-Souvenirs, she examines her past by incorporating the art of sewing and beading into old family snapshots. In her series What Cannot Be Said, Bénitah continues to investigate her identity and status as a woman. Through the depiction of her own sealed lips, she explains the fears which keeps them tightly closed.
The work of Carolle Bénitah is part of notable public and private art collections, such as the Bibliothèque Nationale de France, Museum of Fine Arts (Houston), Sunnhordland Museum (Bergen, Norway), Centro Fotográfico Álvarez Bravo (Oaxaca, Mexico), and the collections of Marin Karmitz (Paris), Sir Mark Fhers Haukhol (Houston), Jacques and Galila Hollander (Brussels), and Jan de Bont (Los Angeles). Her work has been published in magazines such as Leica World, Shots Magazine, Photos Nouvelles, Spot, Center for Photography Houston, Foto Noviny, and Lens Culture, among others.
Signature: Signed and numbered on the back by the artist.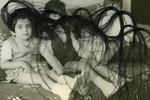 About Carolle Benitah
Moroccan, b. 1965, Casablanca, Morocco, based in Marseille, France
Solo Shows
2014
Sous Les Etoiles Gallery,
New York,
Fair History on Artsy