Walnut plywood, chrome-plated steel, rubber, plastic. Unlike production models, this example has circular metal washers between the shock mounts at the backrest and underneath the seat as well as a 5-2-5 screw configuration underneath the seat. Final production models were completed without the metal washers and later examples have a 5-2-4 screw configuration.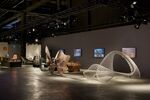 About Charles and Ray Eames
Perhaps the most influential collaboration in design history, the husband-and-wife team of Charles and Ray Eames helped to create new concepts in furniture for a modern century. Exploring new techniques and materials like molded wood, fiberglass-reinforced plastic, and bent wire, they created affordable furniture for the likes of Herman Miller, which have since become iconic pieces in design history. Their California studio was a laboratory where their team constantly refined and revised their experiments, reducing furniture to its most essential forms—as was the Pacific Palisades home they created as one of the famous Case Study Houses. "The details are not details," said Charles. "They make the product." In addition to furniture, they created toys, films, videos, and textiles.
American, 1907 and 1912 - 1978 and 1988, Saint Louis and Sacramento
Group Shows
2017
Open Air Modern,
Brooklyn,
OAM New Additions
2017
Open Air Modern,
Brooklyn,
Spring Additions
2016
Open Air Modern,
Brooklyn,
Winter Additions
Fair History on Artsy