In this work, Damien Hirst playfully incorporates the visual language of his spot paintings, which he has been producing since the mid-1980s, to create his interpretation of the ubiquitous Mickey Mouse. Rendered simply with a dozen circles, here Mickey is reminiscent of a geometric abstraction painting, while the glitter that coats the print's surface gives the work a texture suggestive of pointilism.
With works like this, Hirst seamlessly blends high and low culture, adding in his characteristically irreverent humor. Limited to just 150, this is high quality fine art print signed and numbered by the artist and increasingly iconic and sought after. High res images are available on request, please contact the gallery with any questions.
Signature: Signed and numbered in pencil, verso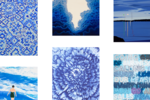 About Damien Hirst
Damien Hirst first came to public attention in London in 1988 when he conceived and curated "Freeze," an exhibition in a disused warehouse that showed his work and that of his friends and fellow students at Goldsmiths College. In the nearly quarter of a century since that pivotal show (which would come to define the Young British Artists), Hirst has become one of the most influential artists of his generation. His groundbreaking works include The Physical Impossibility of Death in the Mind of Someone Living (1991), a shark in formaldehyde; Mother and Child Divided (1993) a four-part sculpture of a bisected cow and calf; and For the Love of God (2007), a human skull studded with 8,601 diamonds. In addition to his installations and sculptures, Hirst's Spot paintings and Butterfly paintings have become universally recognized.
British, b. 1965, Bristol, United Kingdom, based in London, United Kingdom