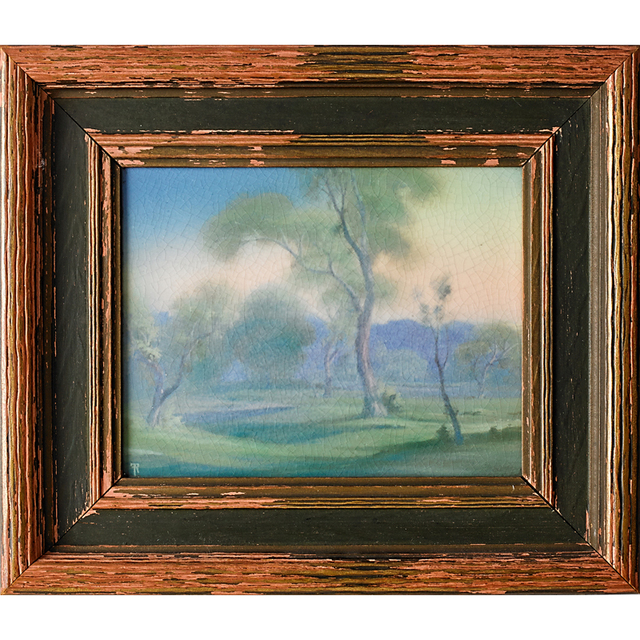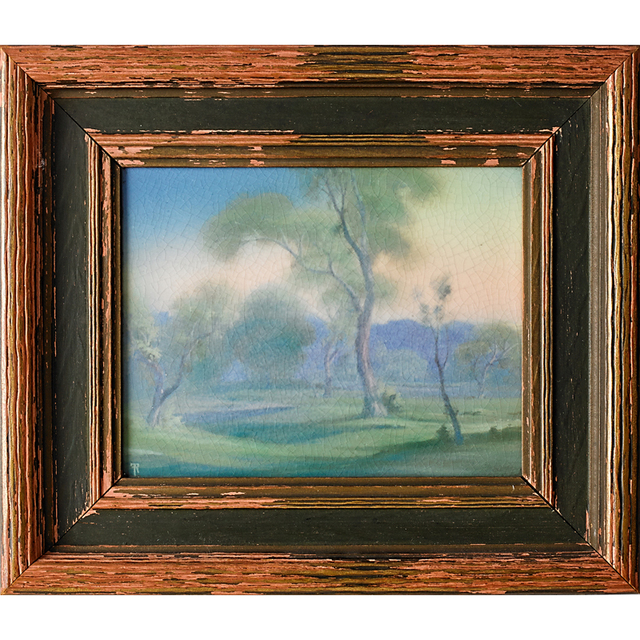 Rookwood, Scenic Vellum Plaque (Framed), "Sunset", Cincinnati, OH, 1921
Plaque only: 6.75" x 8.75"
Plaque only: 6.75" x 8.75"
Flame mark/XXI, original paper label to frame, signed FR to front
Maria Longworth (later, Maria Longworth Nichols Storer; 1849-1932) established Rookwood Pottery in 1880. Born in Cincinnati, Ohio, to a socially elite family, she was an amateur ceramics painter who exhibited at the 1876 Philadelphia Centennial Exhibition. While there, she examined the Japanese ceramics on display and returned home determined to apply what she had learned. Soon after founding her firm, she employed a modest staff that included business director William W. Taylor. In 1889, Rookwood won a gold medal at the Paris Exposition and in that same year Maria handed the company over to Taylor, maintaining only a distant interest. Rookwood Pottery produced unique pieces and production pottery, tiles, and architectural faience in a variety of styles over the years. Bringing in talented sculptors and decorators, the firm was internationally respected in its time and remains popular among collectors today. [Source: Jason Jacques]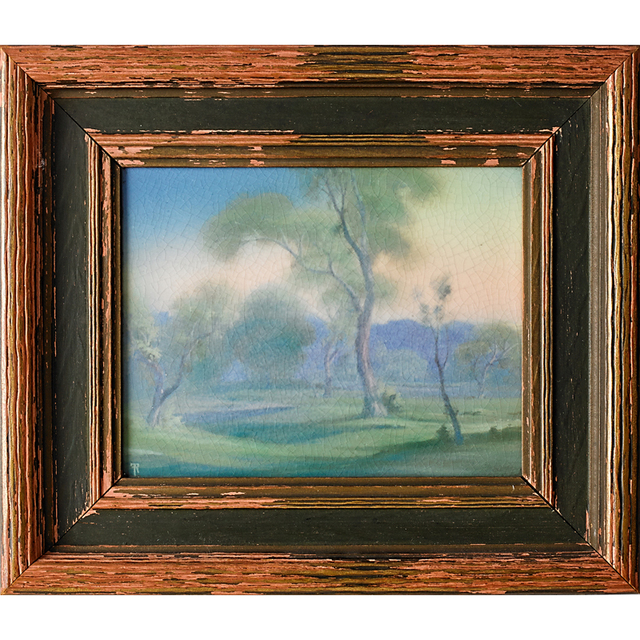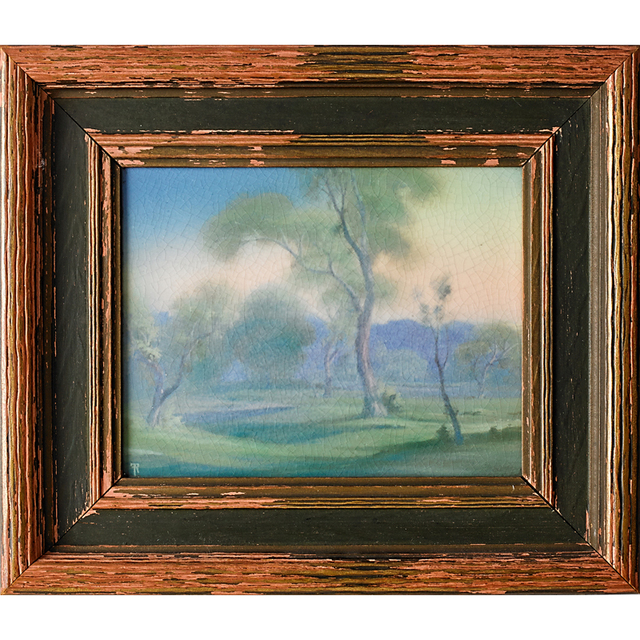 Plaque only: 6.75" x 8.75"
Plaque only: 6.75" x 8.75"
Flame mark/XXI, original paper label to frame, signed FR to front
Maria Longworth (later, Maria Longworth Nichols Storer; 1849-1932) established Rookwood Pottery in 1880. Born in Cincinnati, Ohio, to a socially elite family, she was an amateur ceramics painter who exhibited at the 1876 Philadelphia Centennial Exhibition. While there, she examined the Japanese ceramics on display and returned home determined to apply what she had learned. Soon after founding her firm, she employed a modest staff that included business director William W. Taylor. In 1889, Rookwood won a gold medal at the Paris Exposition and in that same year Maria handed the company over to Taylor, maintaining only a distant interest. Rookwood Pottery produced unique pieces and production pottery, tiles, and architectural faience in a variety of styles over the years. Bringing in talented sculptors and decorators, the firm was internationally respected in its time and remains popular among collectors today. [Source: Jason Jacques]
Rookwood, Scenic Vellum Plaque (Framed), "Sunset", Cincinnati, OH, 1921