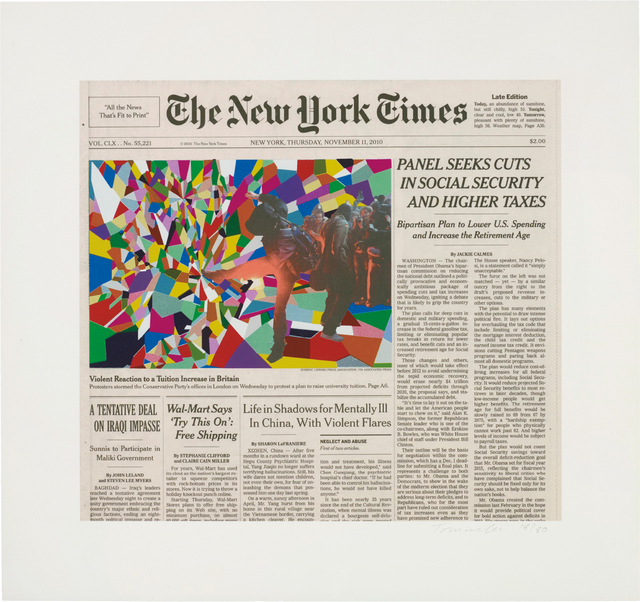 November 11, 2010, 2011
Inkjet print with screenprint in colours, on wove paper, with full margins
15 1/10 × 16 in
38.3 × 40.7 cm
Edition 18/80
Image: 27.7 x 30.3 cm (10 7/8 x 11 7/8 in.)
Sheet: 38.3 x 40.7 cm (15 1/8 x 16 in.)
Signed and numbered 18/80 in pencil, unframed.
In his exquisitely detailed paintings and collages, Fred Tomaselli renders abstract patterns, human figures, and natural forms in a range of unorthodox materials—such as medicinal herbs, prescription drugs, hallucinogenic plants, and cuttings from printed material—which he arranges on wood panels in a thick layer of clear resin. His meticulous compositions swirl across the picture plane like psychedelic visions or Medieval tapestry patterns. Tomaselli sees his works as surreal and hallucinatory universes, in which viewers are apt to lose themselves to a vortex of imagery and ornament. He is particularly interested in the notion of utopia and its various iterations in creative movements, from the Transcendentalists to the Beatniks, describing his work as a sort of "search for transcendence."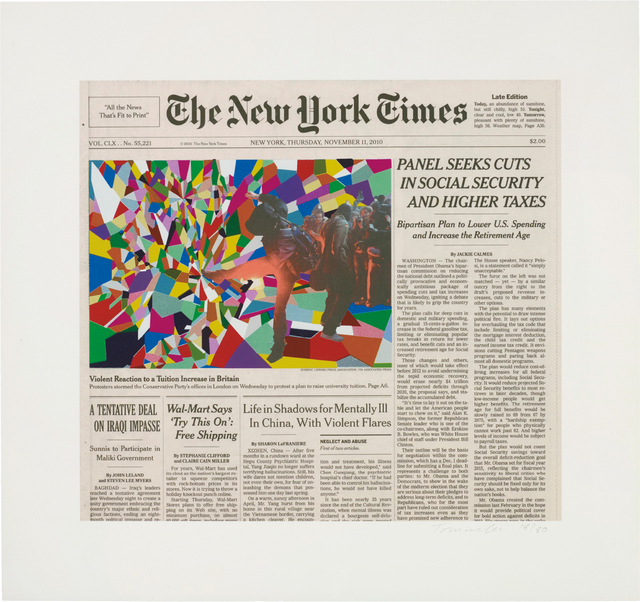 Image: 27.7 x 30.3 cm (10 7/8 x 11 7/8 in.)
Sheet: 38.3 x 40.7 cm (15 1/8 x 16 in.)
Signed and numbered 18/80 in pencil, unframed.
In his exquisitely detailed paintings and collages, Fred Tomaselli renders abstract patterns, human figures, and natural forms in a range of unorthodox materials—such as medicinal herbs, prescription drugs, hallucinogenic plants, and cuttings from printed material—which he arranges on wood panels in a thick layer of clear resin. His meticulous compositions swirl across the picture plane like psychedelic visions or Medieval tapestry patterns. Tomaselli sees his works as surreal and hallucinatory universes, in which viewers are apt to lose themselves to a vortex of imagery and ornament. He is particularly interested in the notion of utopia and its various iterations in creative movements, from the Transcendentalists to the Beatniks, describing his work as a sort of "search for transcendence."
November 11, 2010, 2011
Inkjet print with screenprint in colours, on wove paper, with full margins
15 1/10 × 16 in
38.3 × 40.7 cm
Edition 18/80